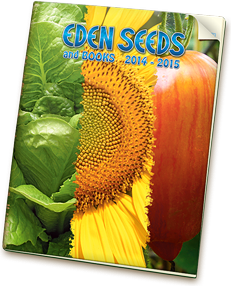 Eden Seeds
With many preferring healthier alternatives, trying to buy and eat organic vegetables, which is often at higher prices, Eden Seeds allows us to grow our own vegetables with naturally organic and biodynamic grown seeds.
In 1987 Queenslander Alf Finch turned his hobby of saving the old traditional open pollinated vegetable varieties into a family business for distribution via mail order.
His hope was to make rare and endangered vegetable varieties which were being replaced by new and hybrid varieties, affordable and available.
Today Alf and his staff produce an 80-page colour catalogue with 1200 varieties, where seeds are packed and sent to home gardeners, commercial producers and over 300 retailers.
Eden seeds are called open pollinated because they allow natural pollination by wind, bees and insects.
Alf says these varieties are hardier, easier to grow tastier and more nutrious.
We can all joined Alf and start with little effort and not a large area, to grow our own natural fresh from the garden veggies for our families, also learning to save the seeds for next year.
Eden Seeds objective is to save and distribute heritage vegetable, herb and flower seeds, preferably Australian grown varieties, to encourage we the gardener towards self-sufficiency.
Lets all make a concentrated effort to look after our health and our planet a little better.
Call Eden Seeds on 1800 188 199 for your catalogue.
Seed dispatches are usually next day